The seventh general meeting of Asia/Pacific Regional Committee was held in Vietnam. Representatives of Macau Documentation and Information Society (MDIS), Dr. Helen IEONG and Dr. Zhen Hui SHEN, attended the meeting and introduced the documents of Macau Kong Tac Lam Temple and its historic value to over 80 representatives from more than 10 countries. Those rare properties have great historic significance, counting 2,000 kinds and 6,000 pieces of documents from the late Ming dynasty to the middle 20th century. They include precious ancient books, manuscripts, famous paintings, palm-leaf scriptures. The application was fully recognized and passed through strict review and vote by the committees. It was successfully included in UNESCO's Memory of the World Register for Asia-Pacific.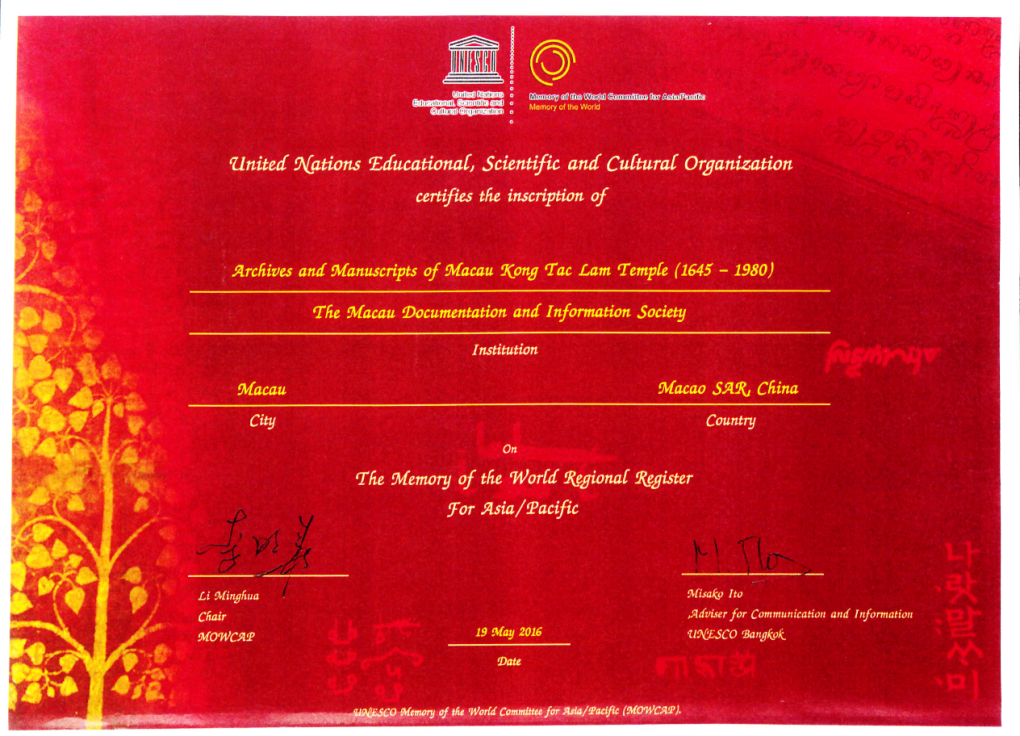 《澳門功德林檔案文獻(1645-1980)》列入UNESCO亞太區《世界記憶名錄》證書
Macau Kong Tac Lam Temple was founded in the early years of the republic of China. The temple used to be a Buddhist college, bringing forth women's Buddhist education in the neighborhood. The platform was created and promoted by many cultural celebrities, monks and nuns, people with knowledge and social talents, such as Master Guanben, Master Xuyun, Master Zhumo, Lay Buddhist Lianjue ZNANG (Hotung's wife), Chiu Nam JAN, the founder of Nanyang Brothers Tobacco Company and his family, painter Jian Fu GAO and a group of Buddhist monks and nuns. By learning Buddhism and Taoism in this way, they not only promoted Buddhist culture, but also exchanged ideas, accumulating culture and leaving rich literature resources for Macau. The content covers Buddhist classics, sinology, philosophy, volumes of abbots, Buddhist debates, the status of women, etc., which were the products of the establishment of Buddhist schools in temples over the years, as well as educational and cultural activities in China and surrounding areas.